Services
Plumbing Services and Service Plumbing in Camarillo
Your first Choice for Plumbing Services and Service Plumbing in Camarillo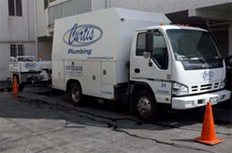 When you need prompt, professional plumbing services in Camarillo, you can feel confident choosing a plumber who is reliable and trusted by home owners and local businesses. Camarillo Plumbers have been serving the Camarillo area for 72 years while using the most technologically advanced plumbing service equipment and techniques. 

Our plumbing services in Camarillo include leak prevention, clog and drain clearing, water heater installation, natural gas leak detection, kitchen and bathroom repairs of faucets, sinks, bathtubs, toilers, garbage disposals and more. We serve residential, commercial and industrial clients. At Camarillo Plumbing we use the most up-to-date equipment so that we may be the least intrusive and save you money. High-tech plumbing and cutting-edge technology has helped us to bring our profession into the 21st century.

We provide superior service plumbing in Camarillo. If you live in Camarillo and are in need of full service plumbing don't hesitate to call Camarillo Plumbing at 800-729-8149!